For thousands of years before colonial times, the members of Indigenous communities travelled from far and wide to gather at the meeting of the three rivers: the Ottawa, the Gatineau, and the Rideau; from the Chaudière Falls to the mouth of the Gatineau River.
This area is rich in natural resources — plants, animals, and fish, and also provided a convenient meeting place for trade and communication among communities.
Of special significance are the burial place at Hull Landing and the Chaudière Falls, a sacred place for meeting and sharing in ceremonies.
The burial grounds in the Ottawa-Gatineau corridor including Hull Landing were important for rituals of respect and bonding with the landscape. Victoria Island, located under the Portage Bridge, continues to provide this sacred space to local and visiting Indigenous people.
The National Capital Region, which includes the city of Ottawa, remains unceded Algonquin-Anishnaabeg territory.
We encourage our members and guests to reflect on this, our connected history, and ways we can contribute to reconciliation.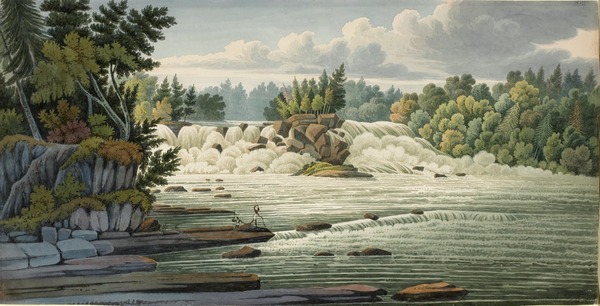 Charles Ramus Forrest Chat Falls, Lake Chaudière on the Ottawa 1822
Source: HSO Member Margaret Back's summary of Canadian Museum of History Archeologist (retired) Jean-Luc Pilon's April 2017 presentation to our Society.