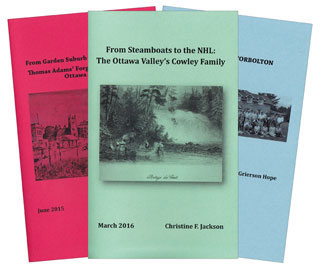 Since the early 1980s, the Society has regularly published monographs on various aspects of Ottawa's history in its Bytown Pamphlet series. These monographs are available free to members and through the Ottawa Public Library and Library and Archives Canada. We are currently in the process of scanning and digitizing older pamphlets to make them more accessible to the general public.If you wish to receive a hard copy of a pamphlet that has not yet been uploaded to the Society's website, please contact the HSO by mail or email.
The first introductory pamphlet produced by the Historical Society of Ottawa contains excerpts from an address on the history of the Society given by E.M. Taylor before the Ontario Genealogical Society (Ottawa Branch, March 22, 1976.
Available for Download
A number of the Society's pamphlets are available to download free of charge.
Available for Sale
The Society's newer pamphlets are available for sale.
Price of HSO Pamphlet Series - $4.00
( The cost of postage is extra)
To order, please contact the HSO by mail or email.