Lord Tweedsmuir was Governor General of Canada from 1935 until 1940. Tweedsmuir's remarkable memory, writing capacity, and skill in working with people were what first drew the attention of Bill Galbraith, the speaker at the Ottawa Historical Society's afternoon meeting on January 29, 2020. Bill ended up writing a book about Lord Tweedsmuir, published in 2013, titled John Buchan: Model Governor General.
John Buchan, before being made a Baron by King George V in 1935, was a well-known journalist and author, having written over 100 books. He wrote the spy thriller The Thirty- Nine Steps in 1915. In 1935 Alfred Hitchcock made it into a movie, which can still be seen on YouTube. Written over 100 years ago, the book has never been out of print. The Guardian newspaper places it 42nd on its list of 100 best novels written in English. The Ottawa Public Library still has 21 of Buchan's books in its online catalogue.
John Buchan was born in 1875 to a Scottish preacher. His mother, Helen Masterson, was from a sheep farming family in the border area of southern Scotland. Buchan spent his boyhood summers on the farm where he developed a love of the outdoors, hiking, and fishing along the River Tweed.
At age 17, Buchan entered Glasgow University to receive a classical education. Even at this young age, he had a commission from a London publisher to edit a book on the philosopher Francis Bacon. Buchan's first book, a collection of Bacon's essays, was published in 1894, when Buchan was 19 years old. The next year he published his first novel. Winning a scholarship, he went on to Oxford University to continue his studies in the classics. After graduation he moved to London and started at a solicitor's office. In June 1901 he was called to the bar, specializing in commercial law.
From September 1901 to July 1903 he was in South Africa as a secretary to the High Commissioner, working on reconstruction after the Boer War. While there he met Commonwealth troops, including Canadians, from whom he gained an appreciation of their strong sentiments and pride for their respective countries.
Returning to London, Buchan worked in law, wrote for the Spectator magazine, and became a literary advisor to Thomas Nelson publishers. In 1905 he met Susan Grosvenor, a member of an aristocratic family. They married in July 1907. They had four children, one of whom married a woman from Ottawa.
At the start of World War One in 1914, Buchan was rejected for military service because of a duodenal ulcer. This was to plague him for the rest of his life. He began to write a contemporary history of the war for Nelson, with a lag of only a few months. This brought him to the attention of the Times newspaper.
He became its war correspondent. In the fall of 1915, The 39 Steps and eight volumes of his history of the war were published. Now the military took notice. He was commissioned a Lieutenant in the Intelligence Corps serving in France. In 1916, he published Greenmantle, another novel featuring Richard Hannay. Buchan was soon promoted to Lieutenant Colonel and returned to London to head an information department. In February 1917 his duodenal ulcer was operated on. In 1918 he became Head of Intelligence reporting to the Minister of Information, Lord Beaverbrook, a Canadian. Buchan finished his 24-volume war history in 1919.
After the war, in May 1919, a chance meeting occurred between Mackenzie King and the Buchans in London. King was struck by Buchan's "scholarly appearance and his delightful English manner". They both had Scottish backgrounds. Later that year, King became federal Liberal leader.
In 1924, King invited the Buchans, on their way to the U.S. on business, to Ottawa. King showed them around Ottawa and his estate at Kingsmere. The visit cemented an intellectual and spiritual attraction to Buchan in King's mind. This was a factor when a successor to Gov. Gen. Lord Bessborough was to be considered. In 1927, Buchan became a U.K. Member of Parliament.
Finding a successor to Lord Bessborough, who was retiring, began in 1934 and ran into 1935. Opposition leader King was influential in having King George V select Buchan as a replacement. In March 1935, Buchan was named the future Governor General of Canada. King was happy, although a controversy arose. Buchan was a commoner, traditionally the appointment was of someone from the House of Lords. And why could the GG not be Canadian born? King George V wanted to be represented by a peer, so he raised Buchan to become a Baron. Buchan chose the name Tweedsmuir to reflect his Scottish roots.
The viceregal couple arrived in Canada on Nov. 2, 1935. Lord Tweedsmuir was sworn in as the 15th Governor General of Canada. Since he was well known for his popular books, people felt closer to him than they had towards any of his predecessors. Buchan knew the importance of his official role, but saw another role, too: to reach out to Canadians and encourage excellence. Susan Tweedsmuir soon became engaged in her own right. She took over speaking to women's clubs to relieve John of certain duties.
Initially, discussions between King and Tweedsmuir were not smooth, but Tweedsmuir showed himself to be adroit in working with people. He provided assistance to King to better organize the office of the Prime Minister. He played a substantive role in the early stages of modernizing Canada's machinery of government, helping to define the Prime Minister's Office and the position of Clerk of the Privy Council.
Tweedsmuir was helpful during the abdication crisis of Edward VIII. He also was instrumental in having King George VI and Queen Elizabeth tour Canada in 1939 as a way of pointing out Canada's independence from Britain. The visit was a huge success. It raised the country's morale and boosted national unity.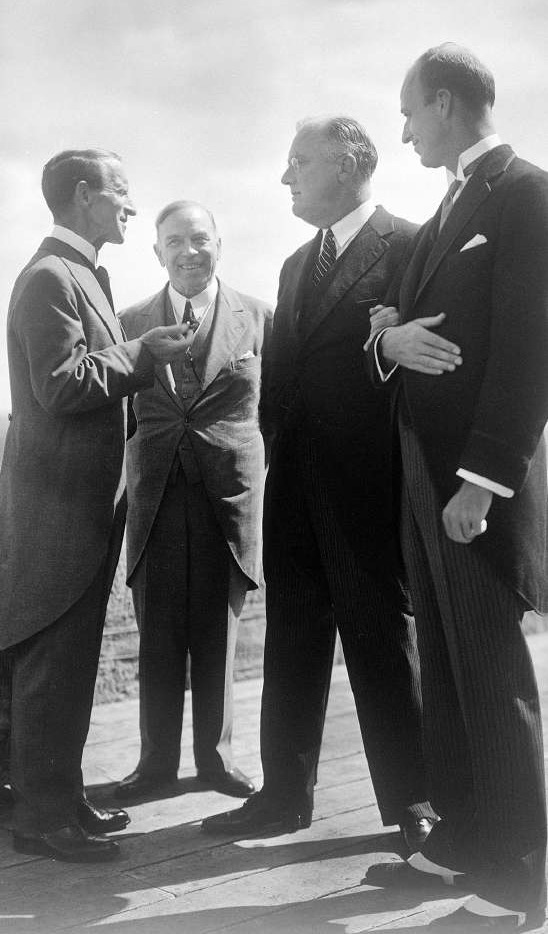 Gov. Gen. Lord Tweedsmuir (left) speaking with U.S. President Franklin D. Roosevelt (supported by his son James, right), with Prime Minister Mackenzie King looking on — July 1936, Quebec City. LAC PA164243.John Buchan became a bridge between Britain and North America. He developed a strong relationship with U.S. President Franklin Delano Roosevelt. Due to isolationist sentiment in the U.S., it was easier for Roosevelt to deal with Tweedsmuir than with Britain directly.
In their first two years in Canada, the Tweedsmuirs travelled extensively. During a major train journey through western Canada in 1936, Lady Tweedsmuir asked people along the way what she could do for them. They requested books. Susan initiated and personally managed what became known as the Lady Tweedsmuir Prairie Library Scheme. Books, 40,000 of them, were collected and sorted at Rideau Hall and delivered to the Prairies, all funded through private foundations.
In 1937 they travelled to the Maritimes. In the same year Lord Tweedsmuir travelled along Alexander Mackenzie's path down the Mackenzie River to Aklavik at the river delta, then flew to Great Bear Lake and on to Kugluktuk, called Coppermine at that time. These travels gave Canadians a better perspective of their own land. As well, it provided inspiration for Buchan to write further books. Also, through his travels, Tweedsmuir provided new visions for government action. After discussions with Canadian literary groups, Lord Tweedsmuir established the Governor General Literary Awards in 1936. Tweedsmuir's incredible memory particularly impresses Bill Galbraith. Because of Buchan's remarkable memory, he could speak to almost any group or profession. This helped to make him a man of the people.
On the morning of February 6, 1940 while preparing for another full day, Tweedsmuir suffered a stroke. Treatment by Dr. Wilder Penfield could not save him. Tweedsmuir died on February 11, 1940.
The outpouring of grief, gratitude, and admiration was enormous. John Buchan felt himself to be Canadian. He was known and loved across the country. He was a model Governor General.