Our in-person speaker session of February 8, 2023, hosted by the Main Branch of the Ottawa Public Library, featured two speakers – double the pleasure, double the fun! One of our speakers related fascinating stories of places, many of which we can no longer see, while the other encouraged us all to get out and look at what we still can, at least for now.
We welcomed Hagit Hadaya as our first speaker of the afternoon. Hagit holds a Master of Canadian Heritage Conservation and a High Honours BA in Architectural History, both from Carleton University. Since the completion of her formal education, she has been researching, writing, and lecturing on a variety of topics dealing with Canadian architectural history and currently serves on the National Capital Commission Advisory Committee on the Official Residences of Canada.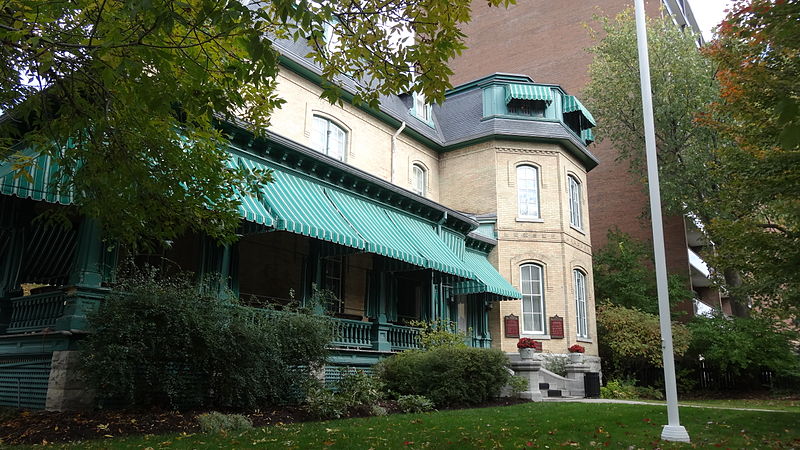 Laurier House. Photo: Suwannee.payne, CC BY-SA 3.0, via Wikimedia Commons.After a visit to the grave of Lester B. Pearson and his wife Maryon (Moody)​, Hagit became interested in the family life of our Prime Ministers and so began her quest to discover how and where in Ottawa they lived. Hagit focused her extensive research on the period prior to the adoption of 24 Sussex Drive, as the official residence in 1952. Limited by available time, she centered her talk on five of our Prime Ministers, Alexander Mackenzie, John Abbott, Wilfred Laurier, R. B. Bennett and William Lyon Mackenzie King, but also included some materials on Charles Tupper and Louis St. Laurent. Working forward through time, she described through words and images where in the community each had chosen to live, whether that be a private home or hotel. Many of the locations she revealed have vanished and so were likely previously unknown to many of the members of the audience. Blending details of the individual lodgings, historical and community context and humorous incidents, Hagit both informed and entertained.
In her presentation, Hagit noted that many of the Prime Ministers faced a degree of financial hardship, as they needed to maintain both a home in Ottawa and in their own riding, at their own expense. She did point out, however, that one of them was able to afford a monthly rent of $400 when the average Canadian family could only afford $27 per month. To learn his identity, along with the details of the residences of the remaining Prime Ministers and other fascinating stories of those covered, we strongly recommend her book, At Home with the Prime Minister: Ottawa Residences of the Prime Ministers Prior to 1952, available through the HSO for $30.
Our second presenter for the afternoon was Emma Kent. Emma, a graduate in History from Carleton University, is the current President of the Historical Society of Ottawa and a self-confessed art-nerd.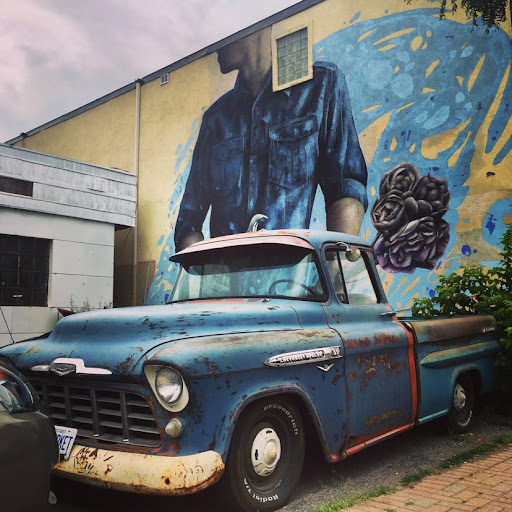 Photo by Emma Kent.Emma discussed the role and evolution of Public Art in Ottawa, highlighted by a virtual walking tour through the Street Art of Hintonburg. She explained that public art, aka street art, is any piece of art, whether indoors or out, that was created or funded through a public process and is accessible for everyone to enjoy. Emma pointed out that the distinction between street art and graffiti is only one of legality, not quality.
Emma provided some historical context to the development of street art, which was initially predominated by statuary, such as the statue of Colonel By funded by the HSO. More recently, limitations of open space, coupled with technical developments in spray paint and the availability of vertical surfaces, have led to the evolution of tagging, (placing your name on a surface), throw-ups, (quick and simple designs), and murals. She explained that the artist community generally respects this hierarchy and will normally only cover one piece with another of a higher quality.
Commissioned street art is an easy way for a community to reflect its heritage and values, to add colour to drab areas and even enhance safety. The great variety of forms it offers, including decorated hydrants and traffic boxes, stickers, murals, and countless others, provide a feast for our eyes. Ottawa is fortunate to have many talented artists working in the field and Emma highlighted the works of Arpi and Daniel Martelock in particular.
Emma's invitation to us all is to become explorers of the art in our communities, to spend a summer's afternoon strolling through Hintonburg, the Glebe, or other parts of the city to view the art that is now on display. The transient nature of street art means that there will always be something new to see and enjoy.
---
Check out Prime Ministers' Row for a photo gallery of residences located in Sandy Hill of past prime ministers.
---
Check out this Capital Current arts & culture story about Emma's presentation: History Society 'tour guide' explores how street art enlivens city neighbourhoods