Bryan Cook
Bryan is an alumnus of Sheffield and McGill Universities. A founding member of Environment Canada, he was for sixteen years the Director General of Energy Science and Technology for Natural Resources Canada and for another nine directed the laboratories and contracted programs of the CANMET Energy Technology Centre.
Retired, he is currently enjoying personal interests in genealogy, fishing and reel repair, fine woodworking, gardening, and writing Japanese style poetry. In 2019, Bryan won the prestigious Genjuan International Haibun Poetry Competition in Japan. He has just published his first autobiographical poetry collection, Haibun Chowder (on Amazon world-wide).
As a former director and life member of HSO, Bryan prepared and guided HSO through processes to prepare and approve Supplemental Letters Patent, a new Constitution and Bylaw to meet the requirements of the new Ontario Not-for-Profit Corporations Act, and three new policies covering privacy, publications, and conduct of business. He instituted an historical poetry corner in the HSO Newsletter which culminated in the best selling Bytown Pamphlet #116, Poetry of the Chaudière. He has authored four definitive biographies: Ahearn and Soper - The Electrification of Ottawa (Pamphlet #118), Henry Gilchrist-Quarriers' Home Child (Pamphlet #119) and Introducing William Pittman Lett, Ottawa's First City Clerk and Bard, 1819-1892 (published by HSO). He co-authored with James Powell When Ottawa Welcomed the Empire Through a Yorkshireman's Lens (Pamphlet #105) and transcribed and edited the long-lost draft of Edwin Welch's A Pioneer Store in Upper Canada (Pamphlet #121). He is currently writing pamphlets on the early electricity generation at Chaudière Falls.
Bryan is one of those weird types who love cosmology, the physics of relativity and quanta, and playing an arthritic banjo in a garage band!
Albert Dumont, Algonquin, Kitigan Zibi Anishinabeg
Albert Dumont is Ottawa's former English Poet Laureate. He is serving his community on the Grandparents Counsel for Well Living House, St. Michael's Hospital, Toronto. He worked as Elder for the Parole Board of Canada at Elder Assisted Hearings and was employed by Correctional Services Canada as a spiritual advisor for the Indigenous men incarcerated at Millhaven Institution's J Unit near Kingston, Ontario.
He is an activist, a volunteer and a poet who has published 6 books of poetry and short stories and 2 children's books. Albert has dedicated his life to promoting Indigenous spirituality and healing and to protecting the rights of Indigenous Peoples particularly those as they affect the young.
Making a point through the power of storytelling, for the purpose of healing and creating awareness of cultural traditions have been Albert's way of life, since 1988. His belief is that there is no greater way to make the community better and safer than the force of an appropriate story to bring wellness to any situation or predicament which can arise in a human being's life.
Phil Jenkins
Since 1978, after emigrating from Liverpool and returning to Ottawa where he grew up in the 1950s, Phil Jenkins has worked as a newspaper columnist (books, reviews, music), travel writer, author, lecturer, playwright and a performing songwriter. He was a freelance columnist for the Ottawa Citizen from 1991 to 2018. He has written for magazines (National Geographic Traveller; Equinox; Wedding Bells; Canadian Geographic; Ottawa Magazine) and about the Canadian landscape in bestselling books: Fields of Vision, An Acre of Time, River Song, Beneath My Feet and As I Walked About. As well, local histories of the Ottawa Heart Institute and the Ottawa Public Library. He is twice the winner of the Ottawa Citizen Non-Fiction Award, and the Lela Common Award for Creative non-fiction. Phil teaches and lectures in writing, the Canadian landscape and Ottawa history, both for Carleton University's Adults in Retirement series and for the Historical Society.. As a singer/songwriter and band member he produced the albums Car Tunes, Making Waves and Music for a Better Day, and a solo album, Noteworthy. He lives in the Gatineau Hills of Quebec, on the Gatineau River.
Diana Pepall
Diana Pepall is a graduate of the Masters of Library Science program at Dalhousie University. She spent the bulk of her career as a librarian and manager at the Ottawa Public Library. In 2017 she wrote Canada's Bletchley Park: The Examination Unit in Ottawa's Sandy Hill 1941-1945, which was published in the Bytown Pamphlet Series of The Historical Society of Ottawa. Further research led her to update the original pamphlet and in April 2023 a revised edition was published. She continues to write and lecture on the Examination Unit.
James Powell
Born in Bermuda, James is a retired senior officer of the Bank of Canada. He is the author or co-author of three books dealing with some aspect of Canadian economic history. James was a Director of the Historical Society of Ottawa for eight years. He is the author of roughly 280 Ottawa stories published in his history blog: Today in Ottawa's History. Each year James gives 30-40 presentations on Ottawa history to service organizations, schools, and seniors' groups.
Paul Weber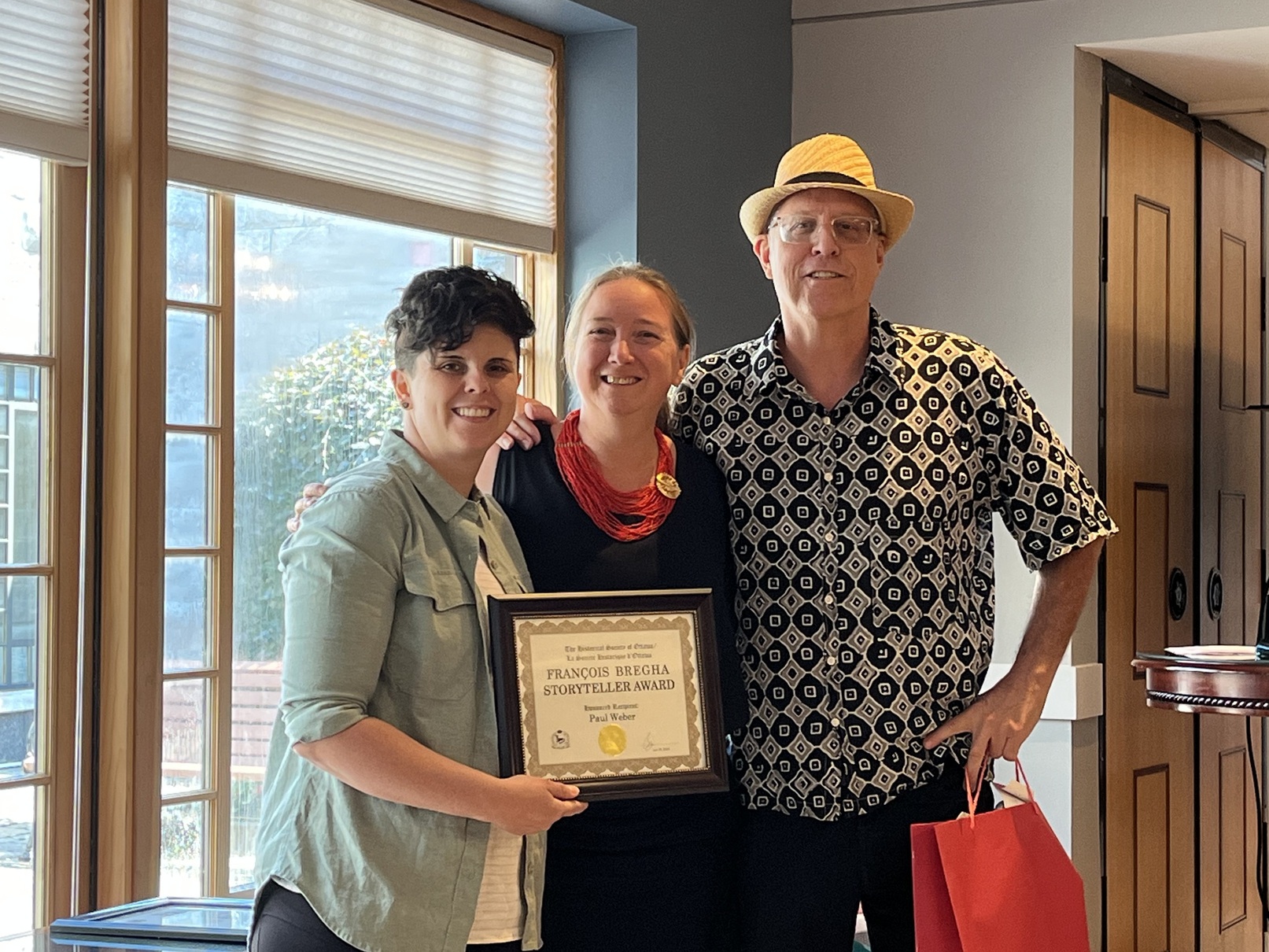 HSO President Emma Kent, HSO Past-President Karen Lynn Ouellette, and award winner Paul WeberPaul Weber is a bilingual singer-songwriter, guitarist, storyteller, and videographer who has performed across Canada in various incarnations. His high-energy live shows combine folk tunes with storytelling and video, all presented in a laid-back, humorous way. Online Paul has mastered the art of performing while presenting his own custom videos. In person or online, Paul gives an engaging, captivating, even educational performance. He recently won a City of Ottawa competition to have one of his songs featured in the "Music on Hold" program. So if you really want to hear one of his songs just call the City and get put on hold!
Paul's music reflects his eastern-Ontario folk roots and his strong connections to his community. His songs are full of stories about the people and places he grew up with and the history of those places. His most recent album, Ode to Gerry Barber, was inspired by a fire and born during a pandemic. It's full of stuff that doesn't always make it into the history books—a heartfelt album about community, struggle, and lost stories. From song to song, Paul's musical styles go from front-porch folk, to jazzy ballad, to country-flavoured pop—you never know what will come out next! His song writing combines the emotional rawness of Bruce Springsteen with the locally-themed songs of Stompin' Tom and the historic sagas of Gordon Lightfoot.