We were thrilled to again participate in the Ottawa Regional Heritage Fair, held on April 20, 2022, at the Canadian War Museum.
It has been twenty years since the HSO advocated for the establishment of this annual event, showcasing the work of students, Grades 4 through 10, from Ottawa area schools. The HSO continues as the ORHF's official patron.
This year was the first in-person fair since before the pandemic. Fewer schools were able to participate than in the past but those that did were superbly represented by an extraordinary group of students with a clearly evident passion and appreciation for history. We are confident that, as COVID precautions ease, we will see the number of schools participating quickly return to normal.
Congratulations to Felix Graham Bevin and Yigit Yarangulmelioglu of Glashan Public School whose project "Ottawa: What is the history of our nation's capital?" won the HSO's Richard Scott Award at this week's Ottawa Regional Heritage Fair. These 8th graders know their history!!
Felix and Yigit's in-depth knowledge and enthusiasm for Ottawa's history was apparent as they presented a full run-down on our city's past... beginning with the area's Indigenous roots... Champlain's travels through the area in the 1600s... the arrivals of Philemon Wright and Colonel By... the innovations of Thomas Ahearn... up to more recent figures such as Dan Aykroyd. The young men even made sure to mention Ottawa's Kai-Voon Joe, one of the first Chinese women to settle in Canada.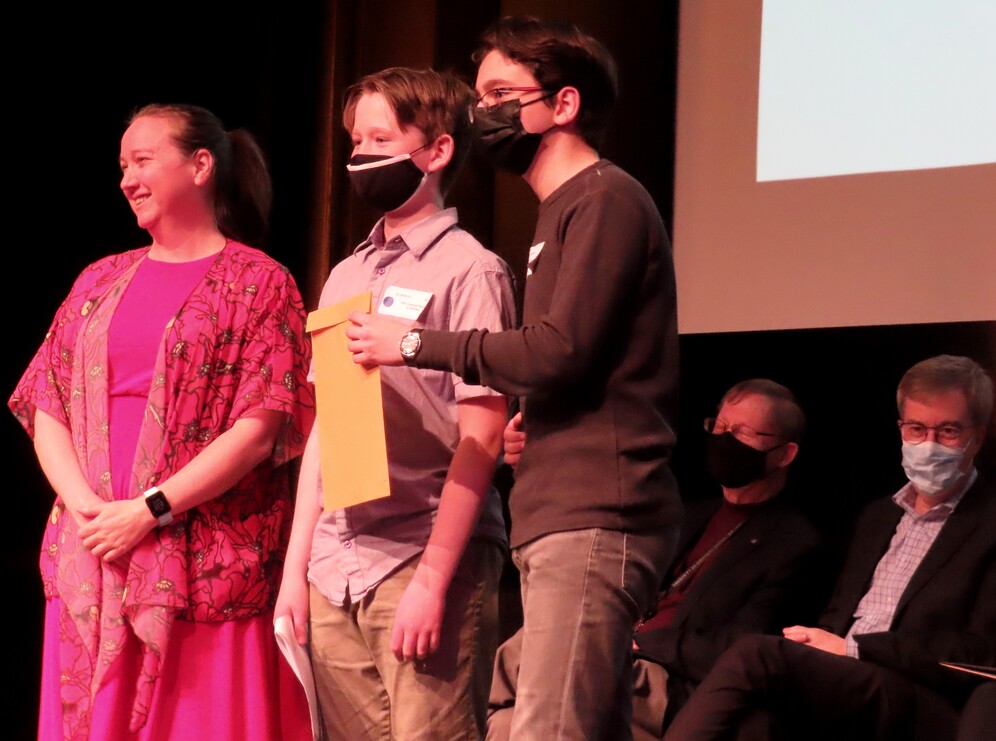 HSO President Karen Lynn Ouellette was proud to present Felix and Yigit with their well-deserved award from the HSO. In addition, HSO members Bryan Cook and Ben Weiss participated as judges this year.
All of the projects at this week's annual Ottawa Regional Heritage Fair were amazing. Congratulations to all of the students and thank you so much to their teachers and the ORHF's organizers.