2 February 1929
L. N. Poulin, Ltd, known to all as simply Poulin's, ranked among the finest retail stores in Ottawa during the late nineteenth and early twentieth centuries. It was known for excellent service, fair dealing, innovative advertising methods, and low prices. During its early years it billed itself as "Ottawa's most progressive store." Later, it styled itself as "Ottawa's store of satisfaction."
For forty years, the store stood at the corner of Sparks and O'Connor Streets in the heart of the capital's business district. Then, out of the blue, L. N. Poulin, its founder, announced in late 1928 that he was retiring and that the store would close. Within two months, the grand retailer was gone, shutting its doors for the last time on 2 February 1929 after a month-long "Retiring from Business Sale." Other than his retirement—L. N. Poulin was 70 years of age at the time—no other reason was cited for the closure. Poulin rented his building on a long-term lease to Schulte-United Corporation of 485 Fifth Avenue New York, a thrusting, new firm that was opening "five and dime" stores across North America.
Poulin's was started in 1889 by Louis Napoleon Poulin and his wife Mary Poulin (née McEvoy). Mme Poulin is given little credit for starting the firm in contemporaneous accounts (not surprisingly given the times) but her obituary noted that she was a considerable businessperson in her own right. L. N. Poulin was born in 1858 in a log home in Addison, Ontario, near Brockville. At age thirteen, he got a taste of retail selling by doing chores and odd jobs at Messrs. Nichols and Parker in the nearby town of Toledo. At sixteen, he took a train to Ottawa to make his fortune. Apparently, he had a return ticket to Brockville in his pocket should things go wrong. He didn't need it.
In Ottawa, he found employment with Russell, Gardiner & Legatt, one of the largest merchant firms in the capital. He worked there, and at another firm, Stitt & Company, for eleven years before he and his wife struck out on their own in 1889; the couple had married in 1884. Most accounts of Poulin's early years place his store in a small frame building at the corner of Sparks and O'Connor Streets, a location that he occupied in bigger and bigger establishments for the next 40 years. However, there are newspaper references to a L.N. Poulin dry goods store at 99 Bank Street through the 1889-90 period. The company ran an advertisement for a "removals sale" in the Ottawa Evening Journal in early April 1890. This suggests that it was about then that the Poulins made the move to their permanent home at the corner of Sparks and O'Connor Streets.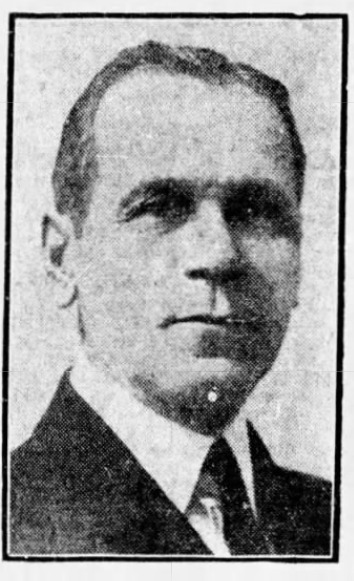 Mr. L. N. Poulin, Ottawa Citizen, 18 June 1923. Poulin, aided by two assistants, rented 600 square feet on the ground floor of the building from John A. Brouse for $50 per month. The budding dry goods firm only had $4,000 worth of stock. One of his first customers was reportedly Lady Macdonald, the wife of Sir John A. Macdonald.
The firm was a success. In 1892, Poulin bought the Brouse property which also housed the Dymond shirt factory and the YMCA. Two years later, he took over two buildings to the west on Spark Street (the Bush-Bonbright store and National Manufacturing Company) and purchased a milk factory at the rear on O'Connor Street. In 1902, Poulin bought more property on Spark Street giving him 132 feet of frontage. In 1906, he expanded further, buying the Mills Hotel from the Misses Piggott to the rear of his property which gave him a uniform depth of almost 100 feet. Two years later he acquired the J.M. Garland property on O'Connor Street with a view to future expansion. In 1915, this became the store's house furnishings annex.
By 1923, the store had more than 73,000 square feet of floor space, with stock valued at close to $500,000. It employed 245 people. That year, the enterprise expanded for the last time, demolishing the old annex and erecting a four-storey extension which added an additional 18,000 square feet of floor space. This new structure was integrated with the original main building. Looking to the future, it was constructed in a fashion that allowed for six more storeys to be added at a later date.
The store was noted for its innovative approach to advertising. One spectacular example of this occurred during the summer of 1904. Poulin's announced its "Lucky Money Back Sale." A date during a six-week period was selected at random by Mayor Ellis and place in a sealed envelope in the vault of the Bank of Ottawa. Neither the Mayor, the bank manager, or Mr. Poulin knew the selected date. All sales on that date would be refunded in full. Poulin advised customers to shop at his store every day of the sale to ensure being a winner. At the end of the sale, the sealed enveloped was open and the lucky date revealed—23 August, 1904. All customers on that date were given three days to return to the store with their sales receipts to "receive "the full amount of your checks in NEW, CRISP MONEY."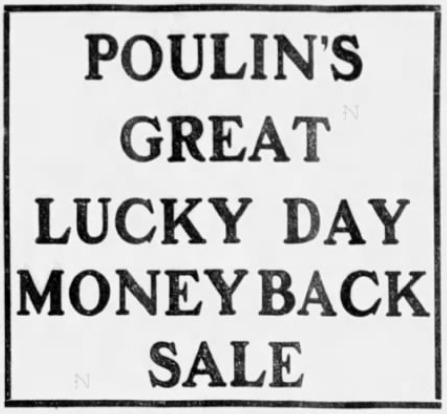 Poulin's Sale, Ottawa Citizen, 9 July 1924.It was innovations like this, along with every-day good value and courteous service, that made the store an Ottawa landmark. So, imagine the feelings when Poulin announced that he was retiring and the store would close. The Ottawa Citizen described it as the passing of an institution. "It did not seem right nor did it seem natural." It was not as if the store was unprofitable, or there were no heirs to carry on the family name. Indeed, the Poulins' four sons, Edmond, Gidias, Fabien and Clement, all worked in the family firm. The closure also meant that almost three hundred employees lost their jobs. At a farewell dinner dance held for his workers a few days after the store's shut its doors for good, Poulin said that his employees would be able to find new careers if they did their best.
If the rationale for the closure appears somewhat mystifying, Poulin's timing was impeccable. Less than nine months after the store went out of business, the Great Depression began. The Schulte-United Corporation, which had moved into the former premises of Poulin's department store, failed two years later, a casualty of the economic catastrophe.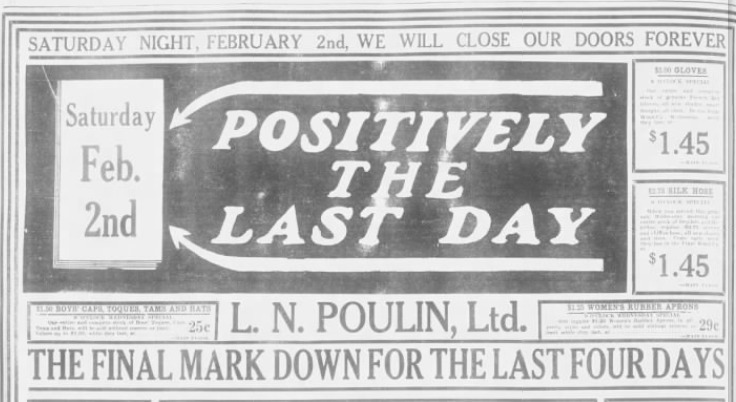 Closing out sale, Ottawa Citizen, 30 January 1929.
Another person who had impeccable timing was Walter P. Zeller of Kitchener, Ontario. In 1928, he had sold his small chain of Zeller's department stores located mostly in southern Ontario to the Schulte-United Corporation which wanted to expand into Canada. When Schulte-United failed three years later, Walter Zeller bought the Canadian wing of the operations. These comprised his original Zeller's stores and ten other outlets that Schulte-United had established in the interim, including the former Poulin's department store location on Sparks Street.
Zeller's became a fixture on Spark Street for more than seventy years. The very profitable chain of bargain stores was bought by the Hudson's Bay Company in 1978. Growing to roughly 350 stores by the year 2000, the Zeller's chain began to lose ground to competitors. Profitability declined. In 2011, the U.S. department store chain Target bought the leases of most Zellers stores for $1.825 billion in its ill-fated effort to break into the Canadian retail market. It promised to run them under the Zeller's brand for a "period of time." The larger Zeller's branches were eventually remodelled and converted into Target outlets. Smaller ones, like the elderly store on Spark Street, did not fit the Target style. It closed its doors in 2013. Two years later, Target closed all of its 133 Canadian stores after a disastrous foray into Canada.
The distinctive building once owned by L. N. Poulin was almost demolished in the early 1980s as part of a high-rise development plan. Notwithstanding a demolition permit granted by Ottawa's City Council, the building was saved at the last minute, in part by a campaign orchestrated by Heritage Ottawa. It was sympathetically renovated by its then owners, the Hudson Bay Company. Consistent with its long heritage as a discount retail store, the edifice that was once Poulin's Department Store, and later Zeller's, now houses a Winners outlet.
As for the Poulins, after their retirement, the couple moved to a home at cottage community of Britannia. Louis Napoleon Poulin stayed active in Ottawa's commercial life as a director of the electric and gas companies. He died at the age of 85 in 1941. His wife, Mary Poulin, died in 1949.
Sources:
Heritage Ottawa, 2017. Poulin's Dry Good Store| Zellers Department Store, https://heritageottawa.org/50years/poulins-dry-goods-zellers-department-store.
Ottawa Citizen, 1904. "Thousands of Dollars in Cash Refunded to Our Customers," 11 July.
——————, 1904. "Your Money Back," 2 September.
——————-, 1923. "Rebuilding of L.N. Poulin, Limited, Store To Add Another Chapter To Fascinating Story of Expansion Of An Ottawa Firm," 19 June.
——————, 1928. "L.N. Poulin Is Retiring After Splendid Career," 29 December.
——————, 1929. "Schulte-United Will Have a Fine Store in Capital," 2 March.
——————, 1931. "Walter P. Zeller Heads Zellers Ltd, Formerly Schulte-United," 7 November.
—————–, 1941. "Late L. N. Poulin, Noted Figure In Commercial Life," 9 July.
Ottawa Journal, 1890. "No Bankrupt Stock," 3 April.
——————-, 1924. "Mr. L.N. Poulin Host to His Employes (sic)," 10 January.
——————-, 1928. "Retiring after Forty Years of Business Here," 29 December.
——————-, 1939. "7,000 Members of Poulin Families Join in Unique Celebration," 19 August.
——————-, 1949. 'Mrs. L.N. Poulin Dies," 4 June.
Reuters, 2011. Target to enter Canada with Zellers deal, own plans, 13 January, https://www.reuters.com/article/target-canada/update-2-target-to-enter-canada-with-zellers-deal-own-plans-idUSN1326316220110113.
---
Story written by James Powell, the author of the blog Today in Ottawa's History.
Retired from the Bank of Canada, James is the author or co-author of three books dealing with some aspect of Canadian history. These comprise: A History of the Canadian Dollar, 2005, Bank of Canada, The Bank of Canada of James Elliott Coyne: Challenges, Confrontation and Change," 2009, Queen's University Press, and with Jill Moxley, Faking It! A History of Counterfeiting in Canada, 2013, General Store Publishing House, Renfrew, Ontario. James is a Director of The Historical Society of Ottawa.