25 September 1929
On 25 September 1929, The Ottawa Evening Journal reported the death of old "Bob," a twenty-five year old horse. It was front page news as Bob wasn't just any horse but was Ottawa's last fire horse. The red ribbon and cup winner at the Ottawa Horse Parade passed away in pasture, honourably retired for more than a year. He had been purchased by the Ottawa Fire Department (O.F.D.) in 1908 at the age of four from Hugh Coon. Standing 16 hands, 2 inches tall (66 inches) from the ground to the top of his withers, the jet black, 1,300 pound horse served four fire stations during his lifetime, retiring from the No. 11 station at 424 Parkdale Avenue. Old Bob wasn't the last horse in active service, but was the last owned by the O.F.D. In late 1928, the last two-horse team, also at service at No. 11 station, was displaced when the O.F.D. purchased three motorized combination ladder and hose trucks. When the team was sold, only Bob was left, pensioned off in recognition of his many years of noble service to the City. His retirement to greener pastures was controversial. Ottawa City Controller Tulley opposed Bob's pensioning. A delegate to the Allied Trades and Labour Association meeting held in Ottawa in the fall of 1928 wanted to know if Tulley thought the old horse deserved to be shot, and whether the councillor favoured the same treatment be given to other old employees.
Bob's passing marked the end of an era dating back to 1874 when the City purchased the first horses for its fire department. Prior to then, firemen had to pull their fire engines manually to the scene of a fire. The first fire engine in the city dated back to 1830 when the British regiment stationed on Barracks Hills, now called Parliament Hill, acquired the Dominion, a small manually operated machine. A volunteer fire department was formed in 1838. Later, the first fire hall was established on the ground floor of Bytown's (later Ottawa's) City Hall on Elgin Street. During these early years, insurance companies played a major role in fire-fighting, even providing the fire equipment. The first fire stations date from 1853 when the Bytown Town Council established three "engine" houses in West, Central and East Wards, each equipped with hand-pulled engines. In 1860, the now City of Ottawa purchased two hook and ladder trucks. As each weighed more than a ton, they were supposed to have been drawn by horses. But the City was too cheap or too poor to provide the funds for horses so the engines had to be manually pulled to fires.
The volunteer fire department was neither well managed, nor very professional in its operations. According to David Fitzsimons and Bernard Matheson who wrote the definitive history of the Ottawa Fire Department, there were complaints in the 1850s of volunteers who were quick to show off their sky-blue and silver laced uniforms in parades, but were no-shows when there was an actual fire. To "secure the utmost promptitude in the attendance of the different [fire] companies and water carriers at fires," the City began to offer in the mid-1860s significant financial premiums to first responders. "The first engine to arrive in good working order" received $12, the second $8. The first water carrier received $2 and the second $1. Although such financial incentives did indeed encourage prompt service, they also led to fisticuffs between competing firemen with fires sometimes left unattended. Even when fire fighters managed to arrive at a fire without delay, there was the occasional problem. In 1914, Mr. J. Latimer, a fire department veteran, recalled a major fire in the Desbarats building located on the corner of Sparks and O'Connor Streets that occurred in February 1869. When the fire threatened to spread to the neighbouring International Hotel, barrels of liquor were rolled out into the street to keep them safe from the flames. In the process, some were broken open and at least two detachments of firefighters went home "wobbly" and had to be replaced before the fire was extinguished.
The first fire horses arrived in 1874 when the City acquired the Conqueror steam engine with a vertical boiler from the Merryweather Company of Clapham, England for the huge sum at the time of $5,953. Considerably heavier than other fire equipment, Ottawa was obliged to buy horses to pull it—anywhere from three to six depending on weather and road conditions. That same year, Ottawa's volunteer fire department was replaced by a professional, full time force under the leadership of Chief William Young and Deputy Chief Paul Favreau.
The first motorized fire engines were introduced in North America during the first decade of the twentieth century. In 1906, the Waterous Engine Works Company of Saint Paul, Minnesota and Brantford, Ontario produced the Waterous Steam Pumper. That same year, the Knox Automobile Company of Springfield, Massachusetts produced its motorized fire engine. Such machines quickly became popular with fire departments everywhere. Compared with horse-drawn engines, the new motorized engines were faster and cheaper to operate. Horses needed to be fed 365 days of the year, and required stabling, shoeing, harnesses, and veterinary care. Fire horses also needed to be well trained. They had to be strong, obedient, and willing to stand patiently regardless of weather conditions, noise, and swirling hot embers, flames and smoke. Motorized fire engines didn't need to be trained, were impervious to weather, and consumed gasoline only when used.
Ottawa purchased its first motorized fire engine in 1911 following pressure from insurance companies that threatened to raise their rates if the City didn't get into the twentieth century and acquire modern fire-fighting equipment. Chief John Graham was also insistent that the City buy motorized fire equipment for efficiency and effectiveness reasons. Although the initial outlay for a motorized fire truck was higher than that of a traditional horse-drawn vehicle, the operating costs were lower.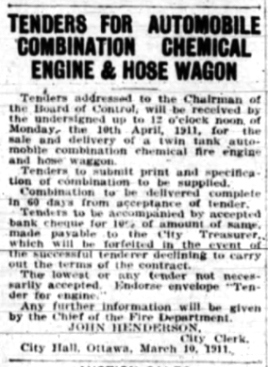 Call for Tenders for Ottawa's first motorized fire engine,
10 March 1911, The Ottawa Evening JournalChief Graham had recommended buying a motor fire truck costing $10,450 from the Webb Motor Fire Apparatus Company of St Louis, Missouri. However, City Council chose a vehicle produced by the W.E. Seagrave Fire Apparatus Company of Walkerville, Ontario (now part of Windsor), the Canadian subsidiary of a company of the same name that had been established in Ohio in 1881. The company had previously sold three of its motorized fire engines to Vancouver in 1907 and one to Windsor in 1910. The four-ton, 80 h.p. Seagrave vehicle purchased by Ottawa carried a price tag of $7,850. It was a combination chemical and hose truck capable of carrying ten firemen, two 35 gallon tanks of fire-suppressing chemicals, 1,000 feet of 2 ½ inch hose, a twelve-foot ladder plus extension, door openers, and three fire extinguishers. Fully loaded, the vehicle could attain a speed of up to 50 miles per hour on flat terrain (typically 35 mph), or 20 mph on a 5-10 per cent incline. The City had initially sought a combination automobile pumper truck with a pumping capacity of 700-800 gallons per minute. However, it opted instead for the chemical and hose truck on the grounds that a pumper truck had not yet been adequately proven though tests were underway in New York City on such vehicles.
The new Seagrave truck was shown off to Ottawa residents at the end of May 1911 when it was run out on the road with its siren shrieking for the first time. Chief Graham invited reporters to witness the truck take him, two deputy chiefs and several firemen on a tour of Ottawa along Rideau, Sparks, Bank, Elgin, Laurier and Albert Streets. It visited No. 3, 7, and 2 fire stations before parking at its new home at No. 8 station located to the rear of the Ottawa City Hall on Elgin Street. In town for the event was Mr W.E. Seagrave himself and an instructor, Mr C.E. Fern, who drove the vehicle that first time. Fern taught Fireman James Donaldson of No. 9 station how to drive the newfangled machine.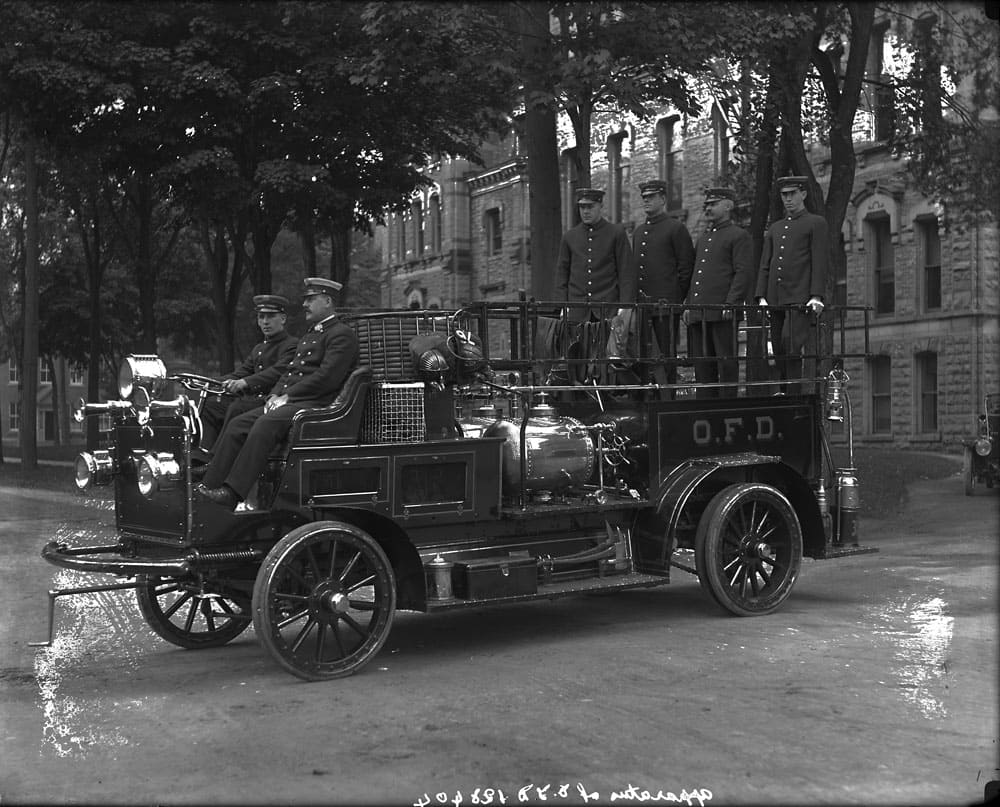 The Seagrave Chemical Hose Combination Truck, Ottawa's first motorized fire truck, 1914
Topley Studio / Library and Archives Canada / PA-032798
The Ottawa Evening Journal hoped that the purchase of the Seagrave vehicle marked the start of a complete replacement by Ottawa of its horse-drawn vehicles by motorized fire trucks. (The second motorized vehicle purchased by the O.F.D. was a flash car for Chief Graham who could then retire his horse and buggy.) At that time in 1911, Ottawa's fire department owned 46 horses, for which the cost of feed alone amounted to $4,600 per year. This was the department's second largest budgetary item after paying the firemen's salaries. On top of this were the ancillary costs associated with owning and taking care of horses that needed to be regularly replaced. The newspaper thought that by 1931, the whole O.F.D. might be equipped with motorized vehicles. This was a pretty accurate guess, with the motorization process taking twenty-seven years.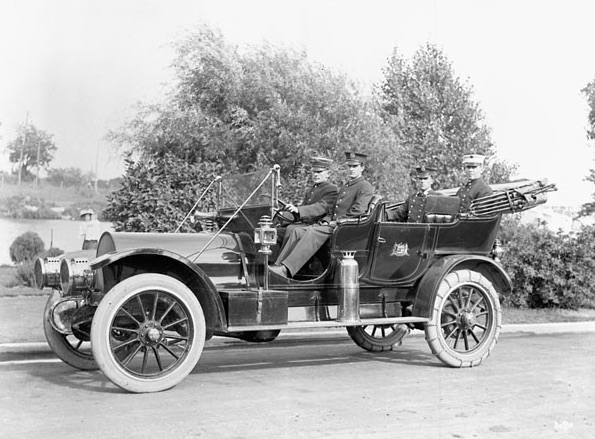 Chief Graham & assistants in auto "Fire Brigade," 1911
William James Topley / Library and Archives Canada / PA-010055The last major event that saw horse-drawn engines in action was the fire that consumed the old Russell Hotel in the middle of April 1928. By the end of that year, the entire Ottawa Fire Department had been motorized, leaving only old "Bob" to live out his days in green pastures far from the smoke and flames of his fire-fighting days.
Today, the Ottawa Fire Department has forty-five fire stations strategically positioned to protect close to one million people living in an area of 2,796 square kilometres. Among its equipment are pumper trucks, ladder trucks, rescue trucks, and brush trucks as well as boats, ATVs and other rescue equipment.
---
Sources:
Fire-Dex, 2011. The Switch from Horsepower to Motorized Fire Apparatus, September.
Fitzsimons, David R. & Matheson, J. Bernard, 1988. History of the Ottawa Fire Department, 150 Years of Firefighting, 1838-1988, Kanata: J. B. Matheson and D. R. Fitzsimons, publishers.
Morgan, Carl, 2015. "Seagrave: Birthplace of the Modern Firetruck," Walkerville Times Magazine.
Ottawa, City of, 2017. About Ottawa Fire Services.
Ottawa Evening Journal, 1911. "Fire Chief Wants A Motor Engine," 26 January.
——————————, 1911. "City Will Purchase An Auto Fire Engine," 10 February.
——————————, 1911. "Read Tenders For Furniture," 7 April.
——————————, 1911. "Deputy Chief At Eganville," 12 May.
——————————, 1911. "Using Automobiles For Fire Purposes," 29 April.
——————————, 1911. "Shriek of New Engine Was Heard," 1 June.
——————————, 1914. "With the Ottawa Fire Fighters In Bygone Days," 7 March.
——————————, 1928. "Labor To Take Keen Interest In Coming Vote," 22 September.
——————————, 1928. "Only Two Horse In Fire Service," 9 November 1928.
——————————, 1929. "Last Fire Horse Dies In Pasture," 25 September.
——————————, 1930. "Chief Burnett Dies At Home Was Long Ill," 3 November.
Saskatoon, City of, 2000. History of Webb Motor Fire Apparatus.
Wildfire Today, 2016. Horse-drawn fire engines.
Story written by James Powell, the author of the blog Today in Ottawa's History.
Retired from the Bank of Canada, James is the author or co-author of three books dealing with some aspect of Canadian history. These comprise: A History of the Canadian Dollar, 2005, Bank of Canada, The Bank of Canada of James Elliott Coyne: Challenges, Confrontation and Change," 2009, Queen's University Press, and with Jill Moxley, Faking It! A History of Counterfeiting in Canada, 2013, General Store Publishing House, Renfrew, Ontario. James is a Director of The Historical Society of Ottawa.