Not rain or snow or windy cold kept nine intrepid members of the HSO — and two people who had seen it advertised on our Facebook page — from enjoying a special walking tour of Beechwood Cemetery on Nov. 10. Nick McCarthy, the cemetery's director of marketing, communications and community, led us to the main historical sites and told stories of those buried in this well-tended National Cemetery of Canada.
We began at the tomb of Robert Borden (1834-1937), notable because Sir Robert did not want his title, nor his designation as prime minister, used on his monument. However, the cemetery has placed a plaque nearby to remind visitors of his importance to Canada.
Just at that point, the cemetery mascot — a lithe and beautiful red fox — appeared beside Borden's grave, unafraid of us and apparently intent on catching his dinner.
We saw the sites of many wellknown Ottawa families — Bronson, Slater, Perley, Booth and others. Some family plots have a large monument at the highest point, then several rows of graves marking the descending generations.
Among the Canadians commemorated in the cemetery is Sir Sanford Fleming (1827-1915), inventor of our modern-day time zones and designer of our first postage stamp.
A large monument, which honours Hardial Bains (1939-1997), a onetime leader of the Communist Party of Canada, stands alone on a centrally located plot of land, apparently because no one wants to be buried beside him.
As we turned a corner, there was the tomb of Ramon John Hnatyshyn, (1934-2002) Governor General of Canada from 1990 to 1995.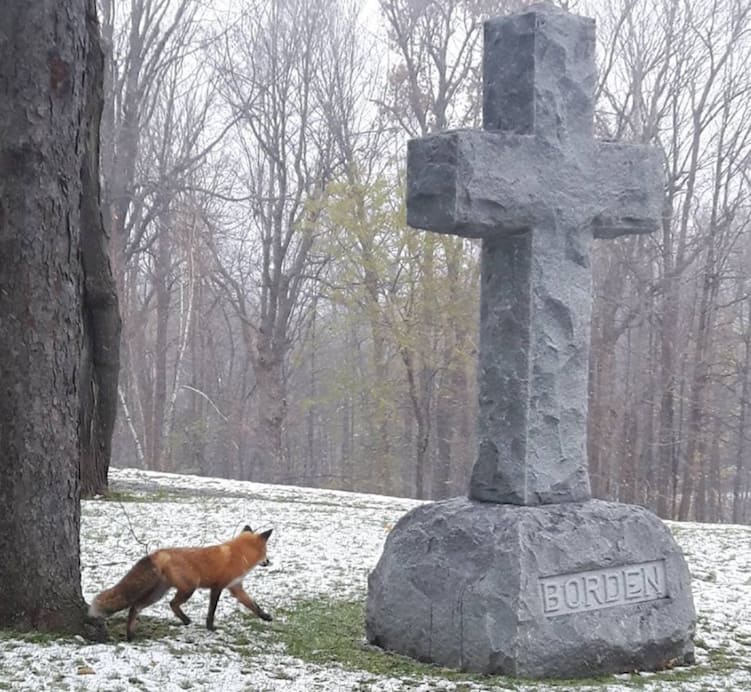 The cemetery also has monuments honouring people who died elsewhere. The hospital ship Llandovery Castle has been in the news recently because it was sunk 100 years ago on June 27, 1918 on its way from Halifax to Liverpool with a full complement of medical staff. On the ship was Canadian Nursing Sister Minnie Katherine Gallaher (1880 1918), born in Pittsburgh, Ont. Her family laid a stone in her honour in the cemetery.
Our guide told of the how Hungarians, who fled to Canada after the 1956 revolution, erected a monument to their heroes, only to have it ripped off its moorings and taken by Russians. The Hungarians replaced it with a more solid concrete cross firmly attached to a stone.
Like Canada, Beechwood is multicultural. People of many ethnic and faith groups are buried side by side. Several cemeteries within Beechwood's grounds honour those who have served in the Canadian or Commonwealth Forces, the RCMP and the Ottawa Police.
Notable were the graves of General Henry David Graham Crerar, (1888-1965) who became Chief of the General Staff of the Canadian Army during World War II, and his successor, General Charles Foulkes (1903-1969), who became the first post-war Chief of the General Staff. The Canadian National Military Cemetery, opened in 2001, includes the grave of Nichola K. S. Goddard (1980-2006), the first woman soldier to die in Afghanistan.
We ended the tour with the monument to a teenager who loved elephants; her family erected a little elephant, symbol of family loyalty, on her gravesite.
Thanks to Nick McCarthy, we now have a deeper appreciation of the stories to be found at Beechwood.